Elk Garage Towing Services
Elk Garage provides AAA and other auto club towing along a 55-mile stretch of California's Highway One - from the town of Elk to Sea Ranch. We are on call 24/7.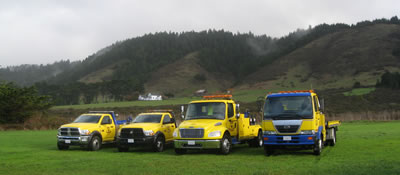 We tow cars, PU trucks, RV's and motorcycles. We tow up to 200 miles for AAA. We also tow for Geico, Farmer's Insurance, Agero Motor Club, Allstate, CHP and the Sheriff's Office.
We do any type of break down emergency such as: jump start, flat tire,
accident, lock-out, extracation, out of gas, etc. We stock Interstate
batteries that can be installed on the scene, though we are not affiliated with the AAA battery program.